The Airparts Story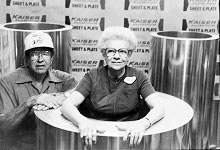 Frank and Ethel Ferree are one of the few to turn a basement hobby into a business! In 1969, Frank bought eight buckets of hardware from a Wichita, Kansas airplane factory. Little did he know these eight buckets would be the start of Airparts, Inc.
Frank and Ethel separated those buckets of rivets, bolts, nuts and other hardware on a canvas in their driveway. Frank headed the family station wagon to tile EAA Convention in Rockford, IL, sold everything he had in just about a day and, he hasn't stopped buying since!
"I really love it," Ethel would say. "l get those buckets of hardware and just can't wait to see what's inside. I've gone through tons of it - tons!"
A short time later Frank ran across a coil of 2024T3 aluminum. He didn't know quite what to do with it until he was pleasantly surprised to find out that rolled aluminum was just what airplane builders wanted. Since then, we have specialized in providing the most complete inventory of roll and sheet aluminum customized to our customers' specifications.
We ship certified aluminum worldwide, to Africa, Australia, New Zealand, Mexico, Spain, the Philippines. as well as all over the United States!
In 1977, Frank and Ethel's daughter. Pam Warner, joined the Airparts team, working in the warehouse and the office. Chris Whitney, Granddaughter, came to work at Airparts in 1987, and Mark Warner, Grandson came on board
in Feb. 1998, making it a true family owned and operated business.
When you call, you will probably speak with Pam Chris, or Mark. They will be glad to help you in any way they can. If you go to the EAA conventions at "Sun-n-Fun" or "Oshkosh" please stop by our tent displays and say hello to Pam, Chris and Mark.
On April 27, 1997 our dearly loved Ethel passed away. She will be greatly missed by her family and many friends. The legacy of the "the little lady in the roll of aluminum" will live on in the hearts of many. On May 9, 1999 Airparts founder Frank Ferree passed away as well. They will be greatly missed by their family and many friends.